By: Roy Wells 
As I reflect on 2021, I am humbled by the incredible success that Team Triad had elevating our clients' voices in front of decision-makers across the Commonwealth.  For those of you who have worked with us, you have experienced our team-centered approach to addressing your needs, and how we pull together a team of highly motivated and experienced public affairs professionals who bundle the right tactics to execute a winning strategy. Our success in the marketplace, in my opinion, goes well beyond the expertise of everyone in the firm.  Every firm has experts, so it is a fool's errand to believe that your competitive advantage is based on your expertise. At Triad, our competitive advantage is based on our shared purpose and mindset that our culture is built upon.  At Triad, we are all leaders who constantly collaborate with one another, generating the great ideas that in partnership with our clients and other stakeholders, leads to success. Our team shares successes as well as failures, we trust in one another, hold each other accountable, and most importantly, have each other's back.  Those are the ingredients that provide us with our competitive advantage in the marketplace.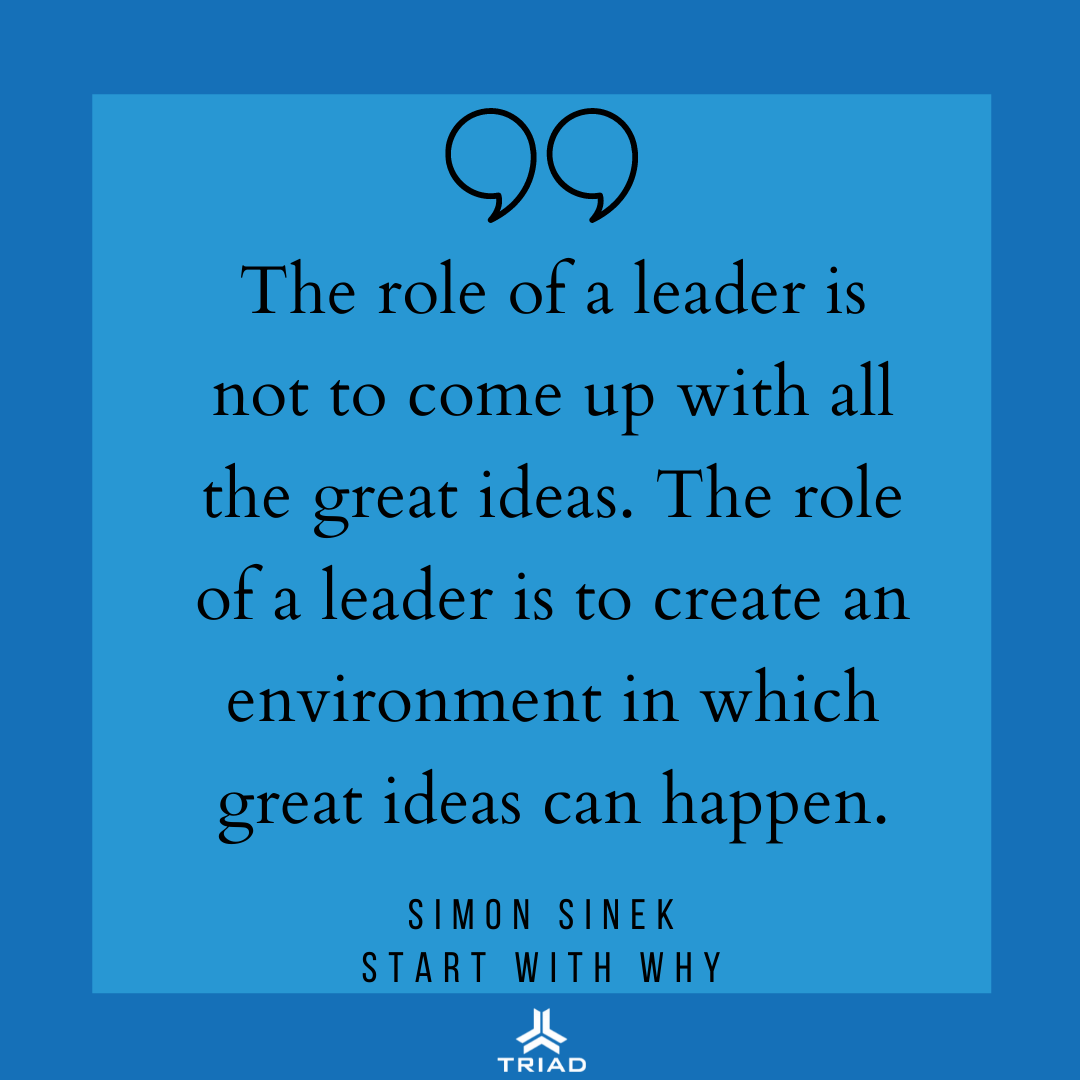 There is no greater satisfaction than to lead a team of leaders.  If you provide leaders with the tools and environment that enables them to thrive, you basically get to drive a Tesla, where you type in the coordinates into the GPS and rarely place your hands on the steering wheel. In 2021, my goal was to keep investing in my leaders so they could get incrementally better every day and try to eliminate as much stress as possible, so they could focus their energy on their clients and develop innovative solutions to meet their needs.
What the pandemic proved to us was that we could be very successful regardless of whether we were in the office or working from home. As we discussed our return to the office plan, we realized that the Triad Way and our corporate culture provided the foundation that allowed our client teams to decide where they could work from and when they would work. By holding each other accountable, they ensured that our clients' needs were being met.  We take our purpose seriously, and it was important that we understood the needs of Team Triad, and that their voices were heard in a decision that would matter significantly to them. We listened generously, spoke straight to one another, and decided that each of us should own our work life balance (fundamentals #9, #10, and #17).
Consequently, over the summer we instituted a hybrid work model; eliminating any requirement to work from the office and eliminating the accruing paid time off (everyone can now simply take time when they need it, with the only caveat being that their work was done or that one of their teammates had their work covered.) By removing the work-related stress brought on by the pandemic, our team's productivity increased, along with client successes and the corresponding increase in client satisfaction.  It was clear in 2021 that our mindset drove our behaviors which shaped our culture and drove our continued success.
Recent Accomplishments
Contributing to a High-Tech Workforce
New Funding for Critical Ventilator Care
A Voice for Childhood Cancer Patients
Protecting 20,000 Jobs & $2 Billion in Tax PA Revenue
Bolstering the Commonwealth's Nursing Workforce
Funding PA's Transportation Infrastructure
Though we cannot predict the future, we can evaluate different scenarios to prepare ourselves for what the universe will toss at us.  I am confident that the work we have done with all our stakeholders, clients, employees, families, strategic partners, consultants, decision-makers and vendors in 2021, has positioned Triad Strategies to continue to grow and prosper in the new year. Wishing you all success in 2022 and beyond.  Oh, and I would be remiss not to say, for those of you who don't know us yet, we look forward to meeting you in 2022 and helping you to achieve the success you so richly deserve.