Friday Happy Hour: Jumbotron Edition
August 27, 2021
We begin this week by sending our condolences to the families of the service members tragically killed in Afghanistan yesterday. And we pray for the American service men and women not only still on the ground in that country, but around the world. 
The U.S. Supreme Court this week officially snuffed out the nation's eviction moratorium. It is important to note a few things here. First, there are still about a quadrillion dollars in federal aid set aside for renters and homeowners that has not yet been distributed. Second, should Congress disagree with this ruling, it can easily pass a law to extend it. When you get done laughing about the prospect of the latter option ever happening, maybe get busy focusing on the former one.    
The U.S. House of Representatives passed President Biden's $3.5 trillion budget resolution after pundits and columnists all predicted doom and failure. This is your semi-annual reminder that, love her or hate her, no one ever lost money betting on Nancy Pelosi when it comes to vote-counting. Don't worry, though… we're still a ways out on a done deal.
In the face of the rise of the delta variant, Governor Wolf sent a letter to GOP leaders in the General Assembly, asking them to return from recess and pass a mask mandate for schools. Those leaders politely declined the invitation, preferring instead to leave the masking decision up to local school boards. 
And how is it going at the school board level these days? Well, let's just say they have not been a picture of civility and respectful discourse. There have been fistfights, threats, screaming matches, protests… wait, what happened in Oregon? A guy stripped down to his underwear at a school board meeting to make his point (or some point) about masks? Didn't have that one on our bingo card.
The battle is still raging nationwide about vaccine mandates, with 50% of the country in favor of them, 48% opposed and 2% of the population ingesting horse de-worming pills. ON PURPOSE!
For some reason it was big news that the Biden administration is enlisting the help of tech companies to combat the rising scourge of cyberattacks. Well, who the hell else would they ask for help? Welders? Dentists? If tech companies can't figure out how to stop attacks on technology, we should all just swallow horse de-wormers and log the hell off. 
A report was released stating that up to 50,000 Pennsylvanians who would very much like to have some medicinal marijuana cannot have any because there are not enough dispensaries. These folks are mainly from rural Pennsylvania, which means they also have no access to high-speed internet and therefore must petition their government by using pen and paper. Which, of course, makes their need for marijuana that much more acute. We have a vicious cycle afoot here, folks.
After a few fits and starts, it looks like the Pennsylvania Senate is about to dig in and audit the 2020 elections, just in time for the 2021 elections. We are sure nothing about this effort will be controversial, so don't expect wall to wall news coverage, a million rage Tweets and dueling appearances by Sean Hannity and Rachel Maddow.
The state's redistricting czars voted to end so-called prison gerrymandering, a practice that counts prisoners where they are incarcerated for the purpose of drawing new legislative boundaries. Now these folks will be counted at their last home address. Some of the more rural House and Senate seats that play host to state prisons are about to get a bit larger.
Thanks to a new state law, local governments will soon be forced to post their meeting agendas 24 hours before they take place, a victory for transparency. This move will also enable would-be protestors to spend more time making homemade signs and deciding whether they should strip down to their underwear at school board meetings. Editor's note: school boards, by and large, do not want you to strip at their meetings.  
School districts across Pennsylvania are swimming in COVID cash, and some of them are using the newfound wealth to shrink class sizes, institute new programs and even do construction projects. All of this is to say that the $7 billion in Biden Bucks our schools got should help forestall any local property tax increases for AT LEAST 20 or 30 minutes.  
And while we are on the topic of school districts, check out the jackwagons at the Waukesha School District in Wisconsin, who this week became the only school board in the state to opt out of the free-and-reduced-lunch program out of fears that the kids "could become spoiled." Hell yeah! Food is a luxury around these parts! Next thing you know, they will want books and stuff! WHERE DOES IT END??
Governor Wolf sent a strongly worded letter to FEMA (kidding, it was probably just a normal letter), asking that the agency reduce the threshold for flood relief so that more flooding disasters can be financially covered by the feds. There is a sad irony here that the state seems to be under a flash flood watch for the entire month of August while the western United States is on fire and hasn't seen rain since Nixon was in office.  
Angler alert! Lake trout fry have been found in Lake Erie for the first time in 60 years. This is a very big deal to biologists and eventually for the Lake Erie tourism industry. And for us, because we like us some trout.   
#WinningWednesdays are back on the Triad Socials this week with a spotlight on how Team Triad worked to secure a new funding law for ventilator/tracheostomy providers in the state. And check out the pictures captured during tours hosted this week with the House Labor and Industry Committee and the NEPA Democrats who visited SMART Local Union 19 and Pocono Organics, respectively. Take a look!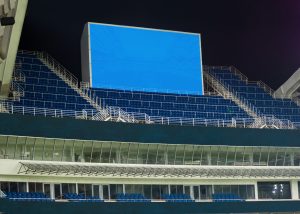 In our We Can't Make This Up segment, we head across the Ohio border to Akron, where a man used the jumbotron at a minor league baseball game to break up with his girlfriend, taking the whole "breakup text" thing to a new level. His note to her on the big screen read, "This relationship is over," which was better than his original one, "Welcome to Dumpsville. Population: You."
That's what passes for news around here at Triad World Headquarters, where we will never break up with you, not even on the Harrisburg Senators' jumbotron. From all your friends at Team Triad, have a great weekend!