Triad Perspectives: 2021-2022 Budget Overview Part II
By: Todd Brysiak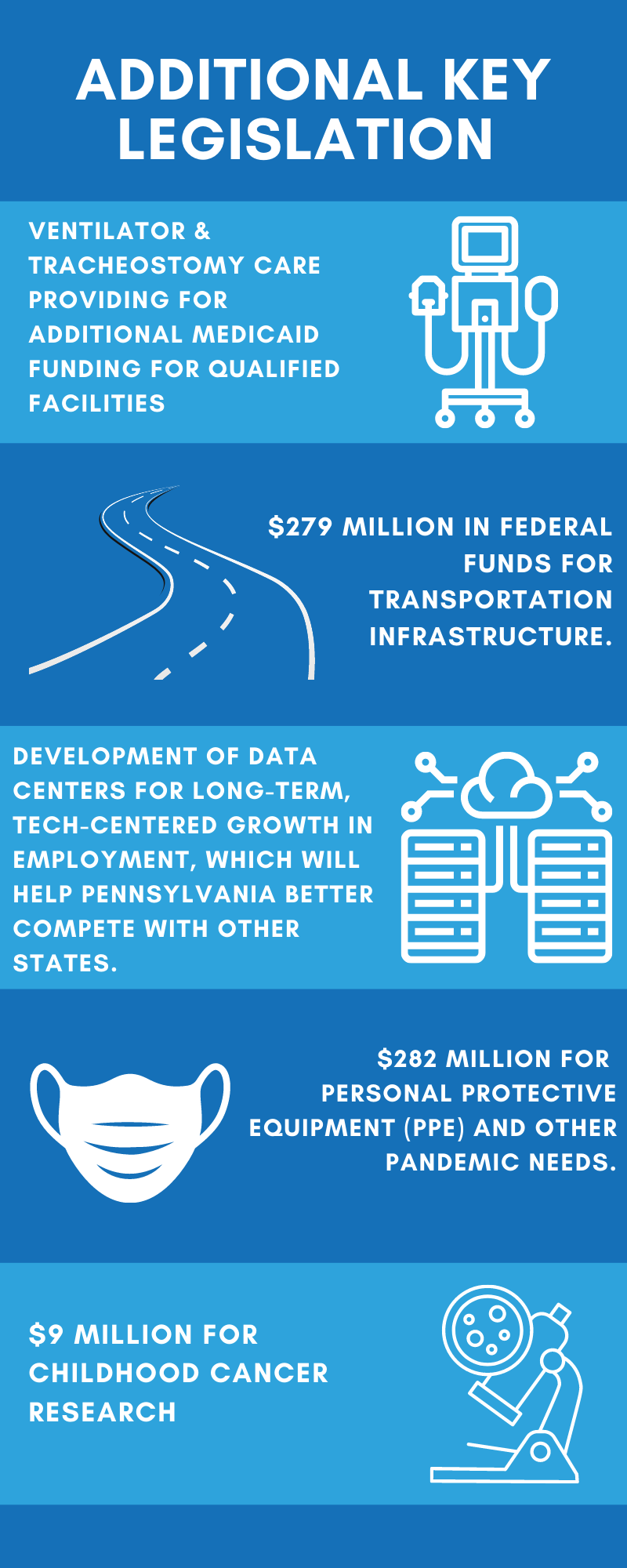 In addition to the key investments noted yesterday, in our budget overview, there were several other budget-related matters -- some addressed in separate legislation -- that will have notable funding impacts here in Pennsylvania.
First, after years of extensive efforts, specialty care facilities that support residents in need of ventilator and tracheostomy care will finally be afforded additional funding via the budget. Senate Bill 108 was approved unanimously by both legislative chambers and is now before the governor for his signature. The measure will set aside additional Medicaid dollars for qualified facilities to help ensure they can continue to care for some of Pennsylvania's most vulnerable residents.
At a time when the state's highways and bridges are in desperate need for more support -- a point highlighted with the recent release of the 2021 TRIP report -- lawmakers chose to invest $279 million in federal funds into our transportation infrastructure system. This infusion will help drive new dollars into key projects and offer the state some breathing room when it comes to dealing with its overall transportation funding structure. Few areas drive job creation and economic resurgence like infrastructure investment, so these new funds are certainly going to be welcomed.
In keeping with job creation, lawmakers also included new provisions to the state's tax code to incentivize the development of computer data centers here in the Commonwealth. The move will promote site development opportunities and long-term, tech-centered growth in employment, which will help Pennsylvania better compete with other states.
No institutions were more seriously impacted by the pandemic than the state's nursing homes, personal care facilities and assisted living centers. Sadly, many of the state's most vulnerable residents were lost during the COVID-19 fight as a result. To help ensure these entities, their employees and those they serve are adequately supported, $282 million in federal relief funds was allocated for personal protective equipment (PPE) and pandemic-related needs.
And among the more heartwarming highlights in this budget, lawmakers set aside more than $9 million in new funds to support childhood cancer research. With U.S. News and World Report recently naming several Pennsylvania hospitals among the best in the nation for childhood cancer care -- including Children's Hospital of Philadelphia (CHOP) which took the top spot -- there is no doubt these funds will be put to good use and save the lives of some very special kids.