Triad Perspectives: 2021-2022 Budget Overview
By:Todd Brysiak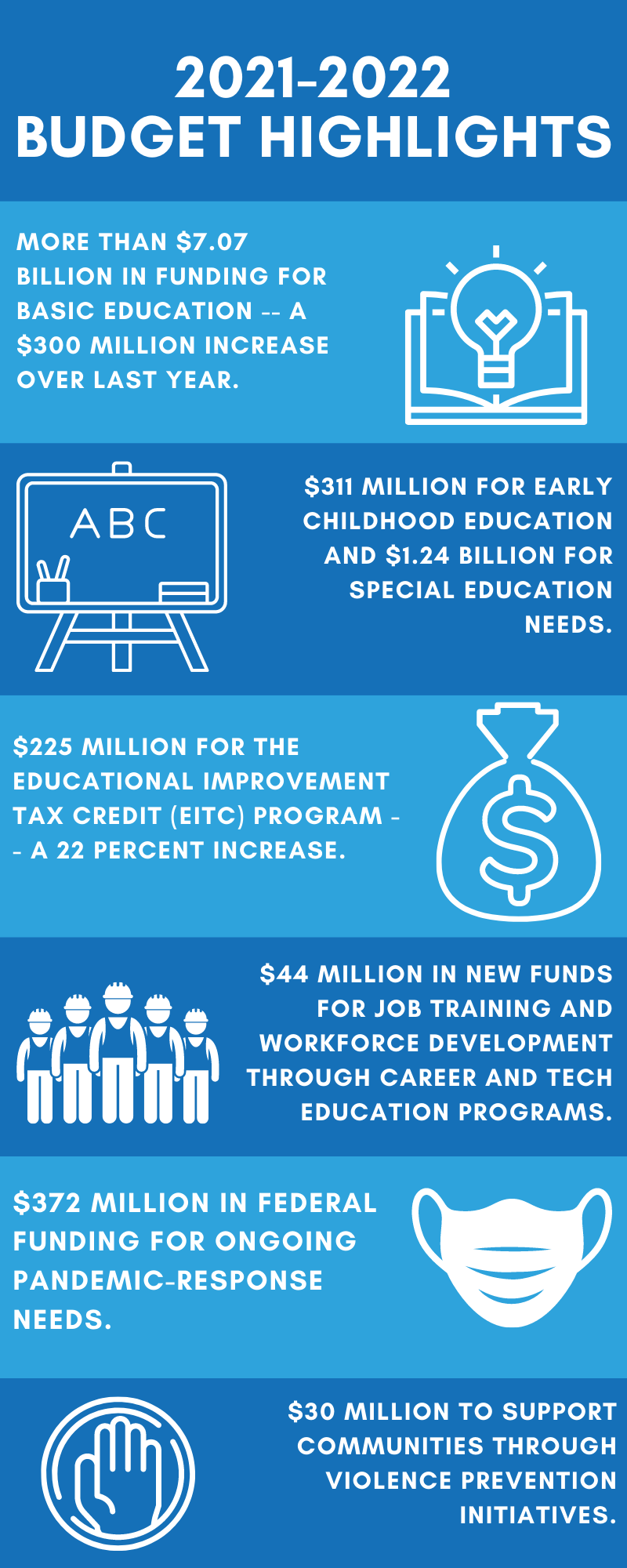 The state's annual budget slog closed out late Friday, as lawmakers and the Wolf Administration came to an agreement on a spending plan for the 2021-22 fiscal year. All told, Pennsylvanians will see about $40.8 billion in General Fund spending when accounting for some additional federal funding support.
This year's budget negotiations were especially unique. In contrast to budgets enacted over the last several years -- most being crippled by notable deficits -- this year lawmakers had an additional $10 billion in unanticipated funds to consider. These were the result of about $7 billion in federal relief funds and a near-$3 billion in revenue surplus.
For those who remember the governor's budget proposal from February, it's certainly safe to say the recently approved plan took on a very different form, as new taxes were cast aside thanks to the surplus dollars. And while there was the obvious debate on what to fund this year, it was evident that lawmakers were equally focused on what to save.
With the move to stockpile $2.5 billion in the state's Rainy Day Fund and hold on to $5 billion in federal relief dollars, Pennsylvania should be in a pretty good position future budgets. Those negotiating this year's deal were playing the long game -- a wise move in the eyes of many in Harrisburg.
But even with the funds saved for next year -- and likely out-years as well -- those at the negotiation table weren't short on making some notable investments.
Triad's Take on the New Budget
As with any state budget, it's always easy to point out things that could have been done differently. But let's be honest here for a moment: it's far easier to be a Monday-morning quarterback than to negotiate a near-$41 billion spending plan. Take it from the folks here at Team Triad who still carry some battle scars from past budget-table debates.
Although this year's process was rather bumpy at times according to many close to the negotiations, the fact remains that lawmakers and the Wolf administration were able to work across party lines to lock down a plan that invests significant funds in many of the state's priorities. Additionally, the move to save additional funds will undoubtedly give negotiators a nice nest-egg should it be needed in the future. And frankly, that's a big deal.
When the governor first rolled out his spending proposal in February, folks got a brief glimpse of what this year's debate could have looked like without additional federal support. Fortunately, that political melee was avoidable. Instead, the new relief dollars helped lawmakers build bridges -- pun completely intended -- that will safely help carry the state into the coming fiscal year and beyond.
All things considered, it sure looks like final 18 months of the Wolf Administration will be far less eventful and fiscally-straining than the first. And this is due, in large part, to this year's budget.
Our lawmakers should be applauded for setting aside differences and working to get a solid product completed. Because doing so is never an easy task.
What Could be Coming in the Fall
Predictions on exactly what the General Assembly will take up in the fall are exactly that -- predictions. Nothing is a definitive, that's for sure. But given some of what's been seen over the last few months and noting what wasn't finally addressed before lawmakers closed on the 2021-22 state budget, there are a few matters that seem likely to land the agenda for the fall.
For starters, those who regularly walk the halls of the capitol believe it's fair to assume education reform will be primed for discussion. This would include a keen focus on charter schools -- an area that has been anything but short on intense debates. Critics continue to claim charters drain needed funds from local school districts, but many lawmakers feel the charter community's response to students' educational needs during the pandemic proved these schools to be value more than ever. If this issue hits the agenda list, then expect a lot of fireworks.
Another tier-one matter that has real potential for more debate is election reform. Sure, both the House and Senate passed a reform bill prior to the budget last week, but Governor Wolf has promised a veto. And given the intense focus on this issue -- and intense is a gross understatement -- it's hard to imagine that it has run its course. So, don't be shocked if this one gets a lot of summer attention at negotiation tables and becomes a fall discussion item.
And while it may not serve as a specific "fall item," there is no doubt that reapportionment will be a scorching hot discussion point in the coming months. Due every 10 years after a new census is completed, there are few matters that start a firestorm like that of drawing new legislative maps. And with the political landscape and partisan politics as contentious as ever, it's seems likely that reapportionment will start dominating headlines into as we move closer to 2022.