What PA Races to Watch Tomorrow
By: Doug Rohanna
This year will be the first general election where voting-by-mail will be a significant factor as recent election reforms allowed this option. It is very similar to the long-time absentee ballot provisions, however, it does not require "an excuse."
United States Election Project is where I go to check the current status of Mail Ballots in Pennsylvania.
Recent highlights include: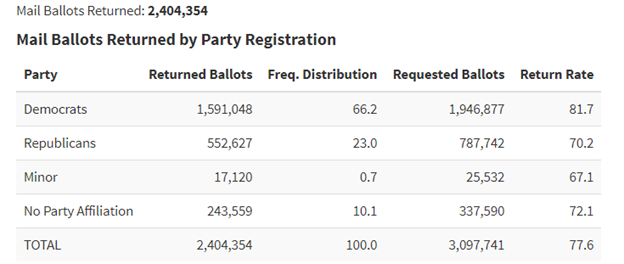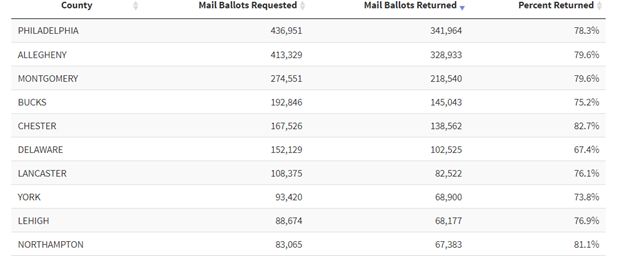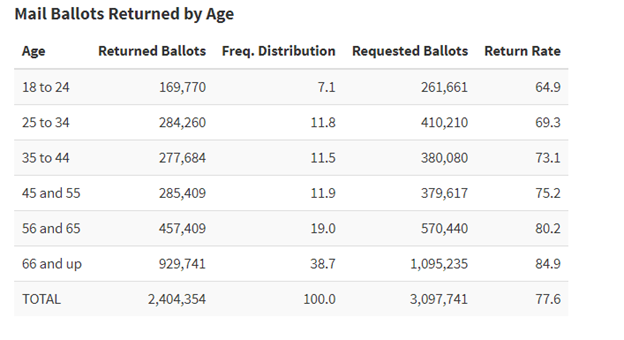 Pennsylvania Legislative Services has information about the statewide races and interactive maps for the Congressional, State Senate and State House Districts.
The top Congressional race in Pennsylvania is the 10th District which includes Harrisburg and York. Representative Scott Perry is being challenged by current Auditor General and former State Representative Eugene DePasquale.
Legislative spending has increased significantly this cycle as highlighted by PennLive and the Pittsburgh Post-Gazette.
State Senate:
Senate Republicans are defending their four seat Majority. The races to watch, and for context, the results of the 2016 Presidential race are:
| | | | | |
| --- | --- | --- | --- | --- |
| SD | Incumbent Legislator | Party | Clinton% | Trump% |
| 9 | Thomas Killion | R | 55.03% | 41.55% |
| 13 | Scott Martin | R | 44.50% | 50.74% |
| 15 | John DiSanto | R | 45.64% | 50.39% |
| 37 | Pam Iovino | D | 45.37% | 51.16% |
| 45 | James Brewster | D | 48.15% | 48.85% |
| 49 | Daniel Laughlin | R | 48.64% | 47.02% |
State House
House Republicans are defending their Majority as the Democrats are aggressively seeking a net gain of nine seats. The races to watch and the 2016 Presidential results by District include:
| | | | | |
| --- | --- | --- | --- | --- |
| HD | Legislator | Party | Clinton% | Trump% |
| 3 | Ryan Bizzarro | D | 45.74% | 49.76% |
| 9 | Chris Sainato | D | 36.69% | 60.36% |
| 10 | Aaron Bernstine | R | 35.93% | 59.86% |
| 13 | John Lawrence | R | 42.73% | 53.04% |
| 18 | Kathleen Tomlinson | R | 52.85% | 44.12% |
| 26 | Timothy Hennessey | R | 43.50% | 52.49% |
| 28 | Open (Turzai) | R | 43.46% | 52.61% |
| 29 | Meghan Schroeder | R | 46.10% | 50.52% |
| 30 | Lori Mizgorski | R | 44.48% | 51.61% |
| 33 | Frank Dermody | D | 45.55% | 50.80% |
| 38 | Open (Kortz) | D | 46.28% | 50.58% |
| 44 | Valarie Gaydos | R | 43.16% | 53.29% |
| 50 | Pam Snyder | D | 33.66% | 63.80% |
| 55 | Joseph Petrarca | D | 31.43% | 65.24% |
| 72 | Frank Burns | D | 26.49% | 70.36% |
| 87 | Greg Rothman | R | 41.82% | 53.91% |
| 104 | Susan Helm | R | 42.83% | 53.30% |
| 105 | Andrew Lewis | R | 44.00% | 51.91% |
| 106 | Thomas Mehaffie | R | 43.80% | 51.46% |
| 114 | Bridget Kosierowski | D | 44.66% | 52.39% |
| 119 | Gerald Mullery | D | 35.40% | 61.77% |
| 123 | Open (Goodman) | D | 31.73% | 65.03% |
| 131 | Open (Simmons) | R | 41.91% | 53.76% |
| 138 | Open (Hahn) | R | 39.52% | 56.92% |
| 142 | Frank Farry | R | 46.32% | 50.25% |
| 143 | Wendy Ullman | D | 47.61% | 48.14% |
| 144 | Todd Polinchock | R | 45.34% | 50.70% |
| 146 | Joseph Ciresi | D | 48.37% | 47.29% |
| 147 | Open (Toepel) | R | 41.16% | 54.54% |
| 150 | Joseph Webster | D | 51.73% | 44.27% |
| 151 | Todd Stephens | R | 55.25% | 41.23% |
| 152 | Open (Murt) | R | 54.58% | 41.63% |
| 158 | Christina Sappey | D | 52.99% | 42.96% |
| 160 | Open (Barrar) | R | 49.20% | 47.16% |
| 168 | Christopher Quinn | R | 51.51% | 44.79% |
| 170 | Martina White | R | 49.20% | 48.35% |
| 176 | Jack Rader, Jr. | R | 41.51% | 54.94% |
| 178 | Wendi Thomas | R | 46.82% | 50.00% |
| 189 | Rosemary Brown | R | 45.71% | 51.06% |
Websites I will be using on Election Night:
County Commissioners Association of Pennsylvania List of County Websites 
Key Twitter Followers include:
Sy Snyder @PoliticsPA
Christopher Nicholas@Eagle63
Spotlight PA @SpotlightPA
City & State PA @CityAndStatePA
Stephen Scare-uso @StephenJ_Caruso
Billy Penn @billy_penn
Katie Meyer @katieemeyer4
Ben Forstate @4st8
Chris Potter @CPotterPgh
ByJohnLMicek @ByJohnLMicek
Michael McDonald @ElectProject
L2 Data @L2political
Decision Desk HQ @DecisionDeskHQ
Taniel @Taniel