Something to be Thankful for
To say 2020 has been nothing like we've expected would be an extreme understatement. Life as we know it flipped upside down and it seems we must continually learn how to adapt with each new twist and turn. Everyone at some point or another has asked "Can this year be over already?"
With that said, a lot of things have happened this year that have allowed us to slow down, take pause, and appreciate the little things we have going on in our life that we may have overlooked due to how busy we usually are. In honor of the Thanksgiving holiday, some members of Team Triad shared what they are thankful for this year: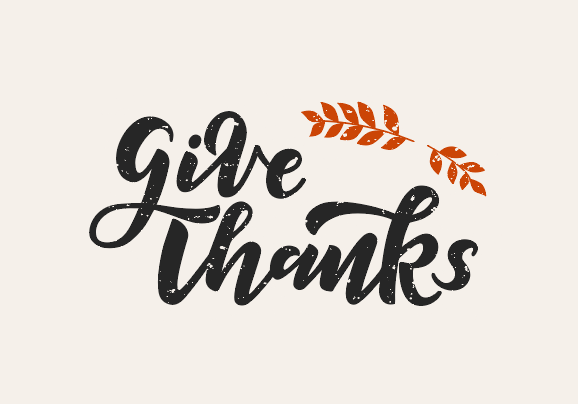 "Although 2020 has been full of challenges, pivots and cancellations, I am thankful that time seemed to slow down a bit this year. I had the opportunity to spend so much more quality time with my family. There were far more family dinners together than in years past where we had to race to after school activities and constantly play beat the clock. We learned to appreciate the little things and enjoy them. This time has been so precious and I'm thankful to have it."
-Megan Dapp, VP of Advocacy and Communications
"This year, I am thankful for continued health and wellness for me and my family; virtual connections and conversations with loved ones; and moments of pause and reflection. None of us know what the future holds, but it warms my heart to be able to share agape love with those in my circle."  
-Brandi Hunter-Davenport, Senior Associate
"This has been a pretty crazy year — one none of us would ever like to see again. That said, it's prompted me to reflect quite a bit on how fortunate I am. This year, I'm thankful for a healthy and happy family; thankful for another year of cancer-free scans for my daughter; and thankful that I'm surrounded by colleagues and friends who appreciate the "person" more so than the "employee." But I am also hopeful..... hopeful that all those feeling the pandemic-led strains on life soon see the reprieve they all so rightly deserve." 
-Todd Brysiak, VP of Government Affairs
"2020 was a challenging year.  I am forever thankful for Shannon, Maggie, Patrick, Ravioli and Newk for keeping me sane and loving me no matter how weird things got or how cranky I was. I am thankful for quarantining under the stars on countless nights with my wife, a bonfire, and No Shoes Radio.  I am also thankful that liquor stores re-opened. Finally, I am extraordinarily thankful for being a part of the best damned public affairs firm anywhere on the planet."
-Mike Manzo, Senior VP of Government Affairs
"Every year we should all be thankful for those who work in the medical field, however this year for the most obvious of reasons, we should be extra thankful. I come from a family of physicians. My grandfather practiced medicine for decades and laid the foundation for my father and oldest brother to pursue their careers as physicians. They, along with so many other in the medical field see the true effect of this worldwide pandemic on a daily basis. I have witnessed the physical and mental toll that it has taken on my father and brother. They do not cower from this disease even as it consumes their colleagues, instead they live up to the oath they swore when they dawned their white-coats."
-Asa Saidman, Associate
"I ran across a meme that made me take pause: Imagine you woke up tomorrow with only the things you were grateful for today. When you take that approach, that makes this assignment incredibly difficult. Here's what I know with certainty that I am thankful for: A work family that is incredibly smart, talented, witty and patient. A humble upbringing that instilled the moral compass I have today. A partner that I know believes in me daily. Kids that remind me constantly that resiliency is the fabric that makes 2020 work. If they can do it, so can I. Friendships that have kept me up past my bedtime on more than one occasion. Alcohol…Because 2020."
-Jan Webb, Administrative Assistant
"There's a lot to be frustrated about this year, but oddly there's a lot that I am very thankful for. I'm thankful for my husband Kevin and our dog Rudy (Dogs are the true winners of 2020), my family's health, the ability to work remotely with a team of smart and talented individuals, and the opportunity to slow down from my typical hectic schedule. I have had the opportunity to have more meaningful conversations with friends and loved ones than I've probably ever had in my life—and I'm incredibly thankful for that."
-Daena Ortenzio, Associate
We hope you can take time to find things you are thankful for this year and have a safe and healthy Thanksgiving holiday.