Friday Happy Hour: Good Penmanship Edition
August 13, 2021
For the news junkies that populate Triad World Headquarters these days (that's most of us), this week was a veritable cornucopia of political news and information. Where shall we start?
In the Governors Division, we offer pugnacious Democrat and suddenly-down-for-the-count Andrew Cuomo, who announced his resignation in the wake of a sexual harassment scandal that boiled down to one of those he-said/she-said/she-said/she-said/she-said/she-said/she-said/she-said… well, you get the idea.
Other entries in the Governors Division were Florida's Ron DeSantis and Texas's Greg Abbott, who took a break from pulling wings off of flies to assure that youngsters not yet eligible for coronavirus vaccinations would not benefit from the second-most effective public health pandemic precaution, which is mandating that everyone wear a face mask. Because making sure that parents get to decide whether to mask their children is of greater importance than protecting said children and others from infectious disease and possible death.
In a positive development, the U.S. Senate approved a bipartisan $1.2 trillion physical infrastructure measure this week, to the surprise of many. While it would not fully restore America's perennially neglected road and bridge system, the highway construction industry believes it would be a good start. Alas, it must first survive the gauntlet of House approval, which as of this morning began to look a bit shaky.
Speaking of the infrastructure bill, we offer this Shameless Client Plug. Bob Latham, executive VP of Associated Pennsylvania Constructors, appears this weekend on the Terry Madonna-hosted Pennsylvania Newsmakers, discussing the federal infrastructure bill and Governor Wolf's Transportation Revenue Option Commission recommendations. Here's a link.
This week's release of U.S. Census data caused a stir, showing that the country is becoming more diverse and that the white population has declined for the first time. It also confirmed that Pennsylvania will be losing a congressional seat, as had been expected.
Now that the population data are available, Spotlight PA published an article explaining what happens next regarding the re-drawing of the state's political maps.
The coronavirus drew lots of ink this week. The Pentagon will seek to make coronavirus vaccinations mandatory for the country's 1.3 million active-duty troops no later than the middle of next month. Officials initially said the shots could be required by the end of August.
Trump-appointed Supreme Court Justice Amy Coney Barrett on Thursday refused to block a plan by Indiana University to require students and employees to get vaccinated against covid-19. The action came in response to an emergency request from eight students, and it marked the first time the high court has weighed in on a vaccine mandate.
State employees in Pennsylvania's health-care and congregate-care facilities will be required to be vaccinated or undergo weekly COVID-19 testing, Gov. Tom Wolf announced, setting the first vaccine mandate for the Commonwealth.
Philadelphia is now mandating that masks be worn at indoor businesses and large outdoor gatherings. There are exemptions for businesses that require vaccinations for employees and guests. In a welcome show of cooperation, Philly's largest union for city workers, AFSCME, announced it would not object. The Eagles and Phillies immediately revised their mask protocols in keeping with the new city mandate, requiring all fans and employees to wear masks in indoor spaces at the stadiums.
Over in the Steel City, Pittsburgh Public Schools administrators said students won't return to class until Sept. 8 to give the district more time to iron out transportation issues. Officials said unusually high temperatures also contributed to the decision.
Pennsylvania's second "mini-casino" has opened in York County. It offers touchless gambling, in keeping with an increasingly popular pandemic-inspired practice, but they will be more than happy to accept actual money as well.
PennLive columnist John Baer believes that Conor Lamb's entry into next year's U.S. Senate race could turn out to determine the direction of the Democratic Party, not only in Pennsylvania but nationally as well. You can check out his analysis right here.
More than a half-million unemployed Pennsylvanians receiving temporary aid from three federal unemployment programs will see those checks end as of Sept. 4, according to the state Department of Labor and Industry. The state's unemployment compensation program will revert to providing up to 26 weeks of unemployment to individuals who have not exhausted their benefits.
Former Gov. Tom Ridge continues to make progress in recovering from his June 16 stroke. Ridge, also a former secretary of Homeland Security, was back in Erie as of last weekend.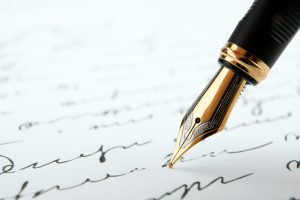 Our We Can't Make This Up segment takes us to southern England, where a would-be bank robber failed to pull off a heist when a teller could not read his hand-written note. Mrs. Crabtree, our third-grade teacher, often reminded us that handwriting is important. The miscreant was sentenced to six years in prison, where he will have plenty of time to work on his penmanship.
On the Triad socials this week, check out this week's #WinningWednesdays. Up this week: jobs and state revenue. You can also check out a few photos of the Pennsylvania House Labor & Industry Committee visiting the Finishing Trades Institute in Philadelphia.  And take a look at our interview with Nandi Jones-Clement, SVP JEVS Human Services, where we highlight their work with the Cisco Networking Academy and JEVS' efforts to support the communities they serve.
And that's what qualifies for news around here this week, as we stay hunkered down in the AC and wait for the humidity to break! From your pals at Team Triad, have a great weekend, and we'll be back next week with another helping of news and nonsense!