Friday Happy Hour: Deez Nuts Edition
October 8, 2021
Let's start by getting today's bleakest news out of the way first. U.S. employers added just 194,000 jobs in September, a second straight tepid gain, and evidence that the pandemic still has a grip on the economy as many companies struggle to fill millions of open jobs. Seems that new infections remained high as September began, and employers are still struggling to find workers because many people who lost jobs in the pandemic have yet to start looking again.
Moving along… The nation was rocked this week as we all learned that Facebook is a private company with a profit motive. Also, people post lies on Facebook, which probably shocks the hell out of you if you've never been logged onto Facebook. Perhaps nothing is more amusing than watching a group of people with zero grasp of technology pretend that they know how best to regulate technology, while at the same time hiring digital staffers to use that same technology to fundraise and disseminate partisan talking points.  
Congressional leaders finally put down their swords and came to a resolution on raising the debt ceiling. Wait, they did what? The deal is only for two months? Oh great, so we are gonna do this dance again right before Christmas? The over/under on how many tweets the Democrats send out comparing Mitch McConnell with Scrooge is currently 11 million.
The great news just keeps piling up for President Joe Biden, as a report issued this week warned that a global energy crisis is looming this winter, the likes of which we have not seen in ages. Afghanistan, inflation, a stalled agenda, skyrocketing energy prices... at this point, he's poised to make former President Obama's first midterms sparkle by comparison. "Hey, remember 2010?" "Yeah, we only lost 40 seats back then!" 
Biden did his part to end his own party's messy brawl over it's domestic spending agenda by saying he would accept something smaller than his $3.5 trillion plan. There were plenty of howls from the left, including one senator who consistently seems to forget that 48 votes do not trump 52 votes, no matter how loudly you proclaim it to be true. Also, maybe congressional Democrats should remember that this is literally YEAR ONE of the Biden administration. It's not like the Doomsday clock is at 11:59.
Meanwhile, the U.S. Senate this week released a report illustrating just how far former President Trump was willing to go to stay in office. Apparently, the line in the sand was when pretty much the entire Justice Department threatened to resign. On a related note, we wonder if the 2020 elections will ever, you know, actually END?? 
When John Wetzel announced his departure as PA Corrections secretary a couple of weeks back, immediately there were accolades for the job he's done during two gubernatorial administrations. Here's one of the reasons: the Wolf administration announced Thursday that the state's prison population has dropped to 36,743, the lowest level since 2001. By comparison, the population surpassed 51,000 in 2011, according to data from the Department of Corrections.
A state court this week issued an emergency injunction against a school district in northwestern Pennsylvania for its failure to enforce the statewide mask mandate from the Department of Health.  Seems the local school board came up with what they thought was an ingenious option to skirt the mandate by giving parents the right to opt-out. It is not clear if any of the board members know that an opt-out is the EXACT OPPOSITE OF A MANDATE!
Like many industries in our post-pandemic world, agencies that care for people with disabilities are struggling to find qualified people to come to work. Most of these workers are paid with Medicaid dollars, and right now the wages in the industry are considerably lower than what you can make at WaWa. This, boys and girls, is an example of why it is way easier for elected officials to say they are gonna cut Medicaid spending than to actually cut it. 
Between one and two million Pennsylvanians are now eligible for a COVID booster. If you are one of those folks, here is a link that tells you how to get yours.
Calling the legalization of recreational marijuana "inevitable" in Pennsylvania, another prominent GOP senator has introduced a plan to free the weed. If anyone had told you 10 years ago that in 2021, the legalization of marijuana would have roughly the same level of support in the legislature as raising the minimum wage does, you would have accused us of being stoned. And yet, here we are.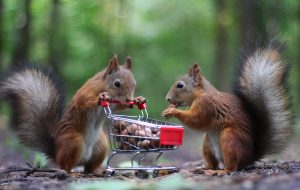 For our We Can't Make This Up segment, we travel to Fargo, North Dakota. While many of us are dealing with pandemic-caused supply-chain issues, Bill Fischer is absolutely flush with black walnuts. Seems that while he was away on a four-day business trip recently, an enterprising squirrel stashed 42 gallons of nuts into every last nook and cranny of his Chevy Avalanche. Deez nuts! Ha, got 'em!! We also got pictures! 
And that pretty much exhausts this week's news and entertainment as we cash-ew out for a holiday weekend and crank up the Almond Brothers Band! We'll be right back here next week with more of the same kind of fun and games!