Thursday, April 30, 2020
By: Dave Chiaramonte, President, Pennsylvania Professional Fire Fighters Association 
The physical, mental, and emotional strain of being a firefighter is a constant. It is rare to go a day or a week without being in a dangerous situation. 
Last fall, the Pittsburgh Fire Fighters hosted the International Association of Fire Fighters Fire-Ops 101. This event allowed for local, state and national legislators to participate in firefighter training to understand this physical, and to an extent, the mental stress firefighters go through on a daily basis.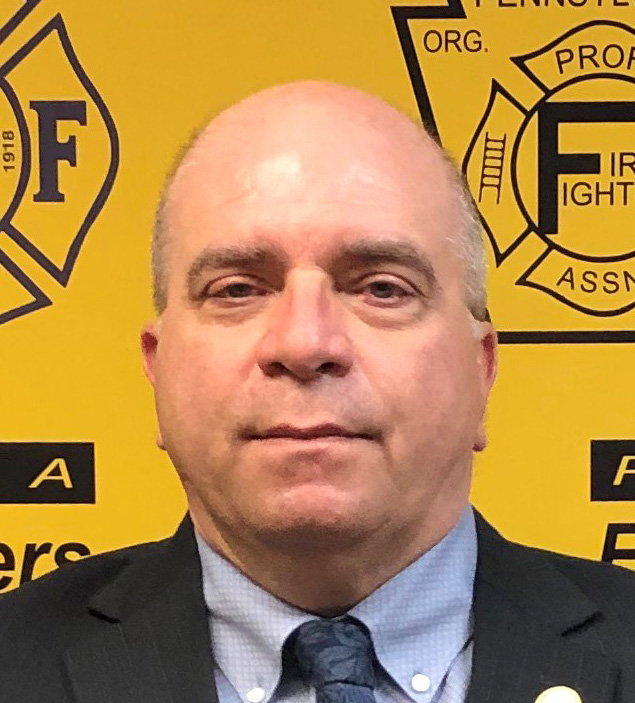 Over the past decade our society has focused on the mental health of all communities, but especially first responders.  Specifically Post Traumatic Stress Injury (PTSI, formerly labeled PTSD) and how it affects firefighters and those serving on the front lines. In the line of duty, our first responders experience traumatic events that they cannot un-see. Currently, in America, more firefighters die by suicide than in the line of duty. As a society we used to hide our emotions and brush mental health issues and traumatic events under the rug.
We cannot continue to ignore the problem—our men and women are suffering.
COVID-19 adds a layer of complexity to the existing problems our first responders are currently experiencing.  This pandemic has impacted station life for firefighters in several ways. Veteran and active firefighters have been diagnosed, and some unfortunately, have passed away due to the virus.
As a community, we need to meet the challenge that this virus has presented while also being aware of the risks that this causes on the front lines. Like doctors, nurses and other "essential workers" we do not just risk exposing ourselves to this virus, we risk exposing our families when we come home from our shifts.
There have been increased efforts and collaboration between firefighters, EMS and other first responders to ensure the safety of one another while continuing to provide relief. Constant communication between departments when heading into a call determines how much and what type of PPE is needed
We appreciate organizations such as Foundation 58 that provide financial assistance to first responders. This non-profit has been working non-stop to make ensure first responders have the necessary Personal Protection Equipment (PPE).
We are all in this together and need to band together as a community to support our most vulnerable and our first responders who are caring from them.